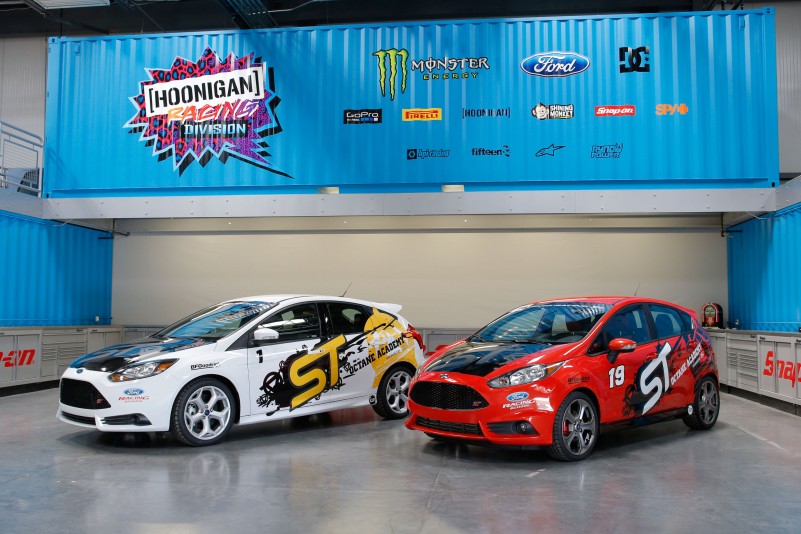 Ford to offer Fiesta ST and Focus ST owners exclusive complimentary driving instruction at Miller Motorsports Park in Tooele, Utah
Classroom, karting and autocross courses will include precision driving instruction
Owners interested should visit www.stoctaneacademy.com for details
Above the sound of screeching tires and racing engines, the school bell is being rung for acolytes of Ford's Fiesta ST and Focus ST high-performance small cars.
At the heart of this complimentary program provided by Ford and Ford Racing instructors at Miller Motorsports Park in Tooele, Utah, initial owners of 2013 and 2014 Focus ST and the 2014 Fiesta ST are being offered the chance to learn firsthand the capabilities of their cars – and themselves. The schedule will be announced later this summer.
"We gave the all-new Fiesta ST the highest possible fun-to-drive factor," said Raj Nair, Ford group vice president, global product development. "It's fast, it handles brilliantly, but it won't beat you up in daily driving. Add to that its affordability, and we think enthusiasts have reason to rejoice. It's really that good."
Ford's ST Octane Academy provides Focus ST and Fiesta ST owners with a full immersion into the Ford ST experience, with driving instruction and extensive course time with professional instructors. The intent is to demonstrate the performance capabilities of the owners' cars and to improve their driving skills – all while having fun.
The program is inspired by Octane Academy, the competition TV series founded by Ford and featuring motorsports superstars Ken Block, Brian Deegan, Tanner Foust and Vaughn Gittin Jr. On the show, amateur drivers compete for a once-in-a-lifetime opportunity to jump-start their racing careers. The four professional drivers put the competitors through a variety of driving and action sports challenges to determine the winner of Octane Academy.
Miller Motorsports Park will provide Focus ST and Fiesta ST cars – modified with full safety equipment – for participants' use in all exercises. All participants will need to do is arrange travel to Salt Lake City to take advantage of the experience. An optional day of instruction will include Ford Mustang GT on the track and off-road driving in a Ford F-150 SVT Raptor.
Following afternoon arrival in Salt Lake City, drivers will visit the headquarters of Hoonigan Racing – Ken Block's race shop in nearby Park City – for a tour of the facilities, a deep dive into ongoing projects, and dinner and a reception.
The next day at Miller Motorsports Park, owners will start with a dynamic classroom session with school instructors, and then spend the rest of the morning learning car control, cornering, braking and vehicle dynamic techniques. Lunch will be provided.
The afternoon session features more on-track driving including lead and follow exercises, instructor ride-alongs and hot laps with professional drivers. It also includes high-spirited precision driving exercises and challenges featuring a custom circuit. The day will end with participating owners receiving a special graduation pack from the team followed by the ST karting challenge.
While owners will be responsible for their travel and hotel costs, Ford will cover costs of the driving school in its entirety. The optional-day Mustang GT and Raptor events would be paid for by the participants. Options for owners to bring guests will also be available. All interested in learning more about this program should visit
www.stoctaneacademy.com
for complete details.
[video=youtube;Q194NkuKDXw]http://www.youtube.com/watch?v=Q194NkuKDXw[/video]
[video=youtube;hlLXZslTtDE]http://www.youtube.com/watch?v=hlLXZslTtDE#t=12[/video]